One of the advantage to take macropictures is sometimes to found some details that we miss usually. Regularly, while I'm looking at the result of the pictures, I realize that while I thought I only took a picture of ant, this one harbor a guess, or I should say a parasite.
However it seems that some species, even some genus are more sensitive than others (based on my observations). As an example
Lasius
can be found often with one to many mites as presented on the picture below.
On this first one, you can see a mite on the side of the head of this
Lasius flavus
worker: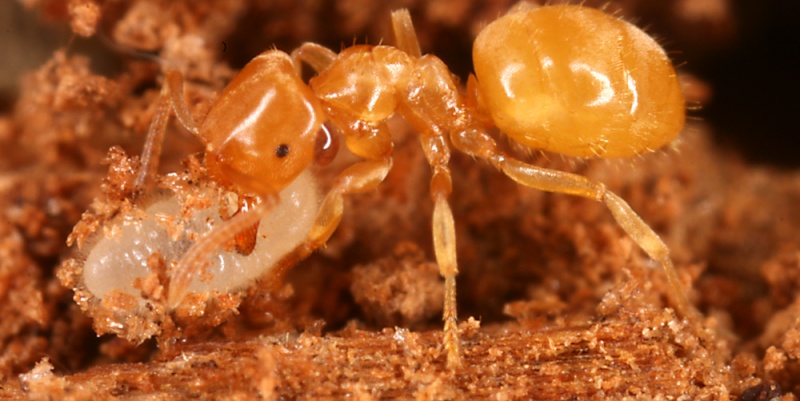 For this second picture, you can see that this worker of
Lasius interjectus
is totally covered of mites, from the head to the gaster. They are everywhere.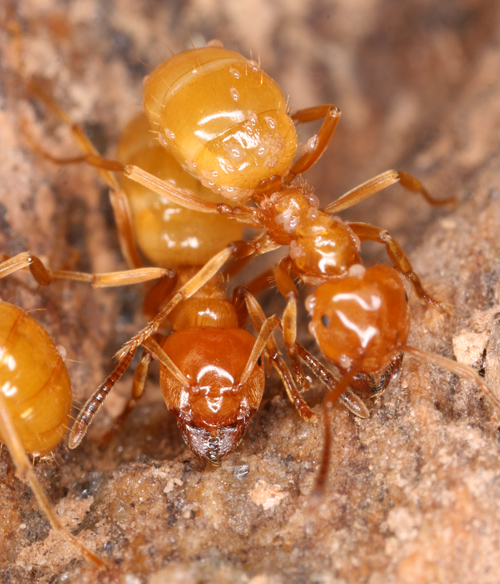 If I could see it very often in
Lasius
and also I found some in
Solenopsis molesta
, I did not observe it in other genera (at least that I can remember now). I know that army ants could have many different guests too from many different species and I would be curious to see some pictures in other species.
Is the presence of mites is more common on species living underground like
Lasius
because of the habitat that make it easier for the mites? or because those species of ants have developed less protection against them?
Is anyone has information on mites?
Barry OConnor, at the Museum of Zoology, University of Michigan, studies the mites of ants. I have identified several ant samples for him, from which he had collected mites. I suspect he would find your images of interest.

(Added a few minutes later...) I just wrote to ask Barry to give them a look, and got this almost instant reply:

"Thanks, James! Both photos show phoretic, not parasitic mites. The first, with the single large mite, probably shows a species of Cosmoglyphus (Astigmata: family Acaridae). Many species in this genus are ant-associates, although we don't know what they're actually doing in the nest. I'm guessing because of the rather dark color and domed form. Another possibility would be a species of Oplitis (Mesostigmata: family Oplitidae). These are also obligate ant associates. The second photo shows a lot of deutonymphs of the family Histiostomatidae, probably genus Histiostoma. This genus lives in many types of patchy organic substrates, where the feeding forms strain microorganisms from water films. I've seen a lot of these on ants, but again, nobody has studied them. Feel free to post this information back to the forum.
All the best! - Barry"

James C. Trager




Number of posts

: 28


Location

: Missouri, USA


Registration date :

2008-02-25



Thanks a lot to both of you.
Very interesting answer. So apparently those mites are only using ants for transportation and are not parasites according to Dr. OConnor. So now, I should reformulate my questions considering these aspects. What make the
Lasius
for example more interesting for the mites than other species? Are they species-specific or can use a large array of species/genera?
I will track the mites now on my pictures to learn a little bit more about them.
Thanks again.
Similar topics
---
Permissions in this forum:
You
cannot
reply to topics in this forum